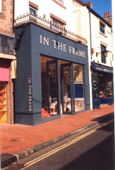 This year we are very excited and proud to be celebrating the 20th year of our gallery! The last 20 years have seen incredible changes in the art world and we have been at the forefront of a revolution making cutting-edge, collectable art accessible for everyone.
It is the belief that art is for everyone that has lead our gallery to have an open door policy for every person, every budget and every artistic inclination.
The gallery was the brainchild of Lawrence Alkin, who remains as dedicated and enthusiastic about the company as ever, working as our boundless CEO.

Lawrence had twelve years experience in the art world in Ireland before he moved to Brighton and bought the first gallery in 1989. Except for its fantastic location in the heart of Brighton's historic North Lanes, the gallery today is unrecognisable from its early '90s roots.
For a start, the gallery was originally called 'In the Frame'. The next iteration of the name came a couple of years later when Lawrence had a eureka moment on Brighton beach. Lawrence was sat on the sea front discussing a screen play that his close friend, a colourful character, was writing. Written into the screen play was the commonwealth of Art Republic. Immediately recognising its pertinence, Lawrence ran home to register the name.
The gallery is now a flourishing company comprising of galleries in both Brighton and Soho, London, as well as an established online presence. It was online investment that arguably kept us ahead of the game. We were one of the very first galleries to sell work online, building our website from scratch in the mid '90s and launching our website in 1999. Lawrence's foresight of the potential impact of the internet on the art world put the company at the forefront of the graffiti and urban art movement.
The last 20 years has seen the birth of urban art, with graffiti works being shared worldwide though social media sources and original pieces proving to be an incredible investment. In 2004 we held one of the first ever urban art gallery shows. Titled 'Pop' and running for 3 weeks, the exhibition included work by Banksy, James Cauty, and Jamie Reid, and was seminal in skyrocketing the careers of these anti-establishment artists.
We sold thousands of Banksy's pieces at the very beginning of his career. Prints that sold for as little as £75 at the Pop show are now fetching upwards of £10,000 at auction, with canvas works which sold for £350 reaching as much as £100,000.
The gallery has continued to support emerging artists and launch international careers. Six years ago, we began working with Sir Peter Blake and remain the biggest reseller of his work, driving his remarkable success in the art market.
More recently, we have been central to the ascendency of Ben Eine's career, sending British street art to the White House (an Eine original purchased from our gallery in Soho was chosen as a high profile gift to President Obama).

Strong relationships with artists, including Nick Walker, Obey, Copyright and Mr Brainwash have put our gallery at the heart of the contemporary art scene. Only a few months ago gallery favourite, Pure Evil, was chosen to feature on the BBC's hit show 'The Apprentice', proving the company's ability to discover, create and promote popular art.
It is arguably our ability to be ahead of trends and to nurture artistic talent that has been the key to our success. Lawrence's philosophy when opening the gallery 20 years ago remains, unaltered, the foundation of the business - the belief that art should be accessible to all.

The result is an eclectic range of work from the best artists presented in an inviting atmosphere where anyone can see, touch and talk about great images. It is possible to purchase a work of art from anything between £25 and £15,000.
It is no surprise that we sell more work through the Own Art Scheme than any other gallery, helping investment in art to become more accessible to more people.

The Arts Council scheme shares our open door philosophy and we are proud to have been invited to join and happily promote the opportunity to all of our customers.
How does Lawrence explain his success? "By taking one day at a time" This is a man who's held on to his original concept and allowed his business to grow organically.

It was the work of Mark Rothko that made him realise how much he liked art and we became the first gallery to bring Rothko to the UK. He hasn't stopped investing in what he likes since. In fact, "buy what you like" remains his straight talking advice.
With great pride and excitement we are looking forward to another 20 years of creative discovery, great art and open doors.