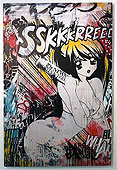 New for this week in our London space is a formidable original canvas from British contemporary and street artist Hush. 'Tits & Terror II' is from Hush's earlier works which features the heavy influence of Manga juxtaposed with a bold US graffiti aesthetic.
This is a truly striking canvas and certainly one of the best pieces to come on to the market in recent times. The work is from a series of two paintings (the other produced on board), primarily created with a combination of spraypaint and acrylic. It is signed and titled on the reverse.
Hush merges various street art approaches with traditional art practices to create complex and original work. He has participated in both solo and group exhibitions in numerous major cities worldwide and has been heavily featured in countless publications.
artrepublic is part of the history of Enter Gallery, find out more.