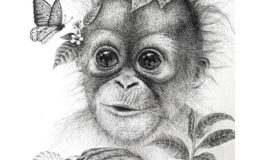 "Creativity is the most sustainable and renewable energy source on the planet" Alison Tickell
In our increasingly visual culture, images hold more power than ever before and artists are uniquely placed to transform the conversation around climate change and translate it into action, using their skills to create work which can influence a wider movement.
Art and activism have a long history of collaboration. We explored this topic in greater detail at our recent gallery event, 'Art as Resistance'. This talk by university lecturer, Katy Beinart showed the role of art within protest.
Art as Resistance - a talk by University Lecturer, Katy Beinart from Enter Gallery on Vimeo.
Sustainable Art
Sustainable Art is any form of art that includes themes of environmentalism, social equality and green economy by providing perspective on the world in its current state to provoke thought and drive change.
At our gallery we hold a range of artwork that communicates these principles and raises awareness for environmental causes. Our final art showcase of the year featured work by our leading artists based around the theme, 'New Beginnings' with a focus on sustainability and conservation.
The event was a nod to our commitment to sustainability as a business and a celebration of new changes with a range of artwork that is hopeful, optimistic and joyful.
As well as providing a platform for these artists to communicate their message, the purchase of art itself is a sustainable option as it a lifetime purchase which is energy efficient and easy to maintain. It is not something that needs to be regular serviced like your car or your home, so the initial investment has no extra upcoming costs to consider.
It is not another commodity that outlives it usefulness with an expiring shelf life. In fact, art gets better with time - Often increasing in value it is a more worthwhile investment than buying an abundance of plastic items which you will soon lose their charm and end up in landfill.
Supporting artists
The purchase of art is an investment in the artist as well as the artwork. When we support artists, we empower their creativity which the world needs more of. This need for artists has been recognised by the Own Art scheme which is a 0% loan initiative supported by Enter Gallery. Ask our staff for further details on the scheme.
See our upcoming events in the gallery at our eventbrite page.