2
Here are just a few new editions that we've got in recently. It's important to bear in mind things come and go quickly, so if you see something you love it might not be around for long!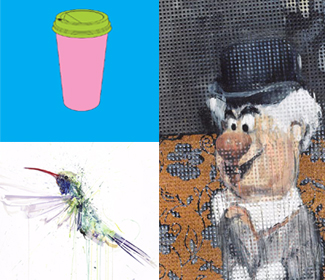 1. 'The Wrong Brave Face' by Charming Baker. Equal parts sinister and humorous, this print has been expertly finished with copper leaf.
2. 'Takeaway Coffee' by Michael Craig-Martin. The artist has the unique ability of transforming everyday items into exciting art.
3 & 4. 'Hummingbird I' and 'Hummingbird II' by Dave White. This pair of uplifting tropical birds have just landed in the gallery. Also available as XL editions that have been hand-finished with gold leaf.
Dave White's prints are known to sell out fast, so if you find yourself in love with his hummingbirds be sure to move quickly before they fly away!