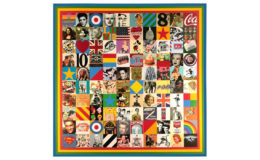 Join us on Friday 6th September at artrepublic gallery - 6-8pm for our 'Sources of Pop Art' Showcase. Join the guest list at our Eventbrite page!
Featuring rare prints to buy from legendary artists such as Sir Peter Blake, Andy Warhol and Ed Rushca who were instrumental in the Pop Art movement and continue to inspire artists across the artrepublic gallery today.
Expect dazzling displays of eye-popping colour, charming pin up girls and iconic advertising that has weaved its way into the art world. Sign up at our Eventbrite page and join us for a glass of bubbly and plenty of pop!
About the Pop Art Movement
Pop Art began in the UK as artists embraced the post WW2 manufacturing boom and the commercial imagery it circulated. Commonplace objects seen in advertising and popular culture were elevated to fine art, blurring the lines between lowbrow and highbrow.
Today Pop Art is one of the most recognisable styles of modern art and forms the basis of most of the artwork we have in our gallery. Pop art plays on imagery from popular culture and what is liked by 'the masses' at a moment in time. It encompasses the ethos of artrepublic that art is for everyone and doesn't have to be 'high brow' or hidden in meaning for it to be considered a work of art. We encourage everyone to buy with their heart and choose pieces they have an emotional connection with. Pop art's unique charm is that by drawing on widely recognised images from mass culture it can uniquely capture the spirit of an era like snapshot in time and spark feelings of nostalgia.
Join us at our preview evening: Friday 6th September at artrepublic gallery - 6-8pm – Sign up at our Eventbrite page!
artrepublic is part of the history of Enter Gallery, find out more.