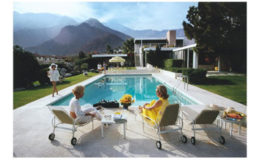 Take a look at our staff recommendations for some insider perspective on our favourite prints in our Brighton gallery. Things come and go quickly however, so call the gallery on +44 (0)1273 724829 to avoid missing out!
"Poolside Gossip" by Slim Aarons
We love everything about this piece.
Slim Aarons was known for "photographing attractive people, doing attractive things, in attractive places" and this 20th Century piece is a perfect representation of that.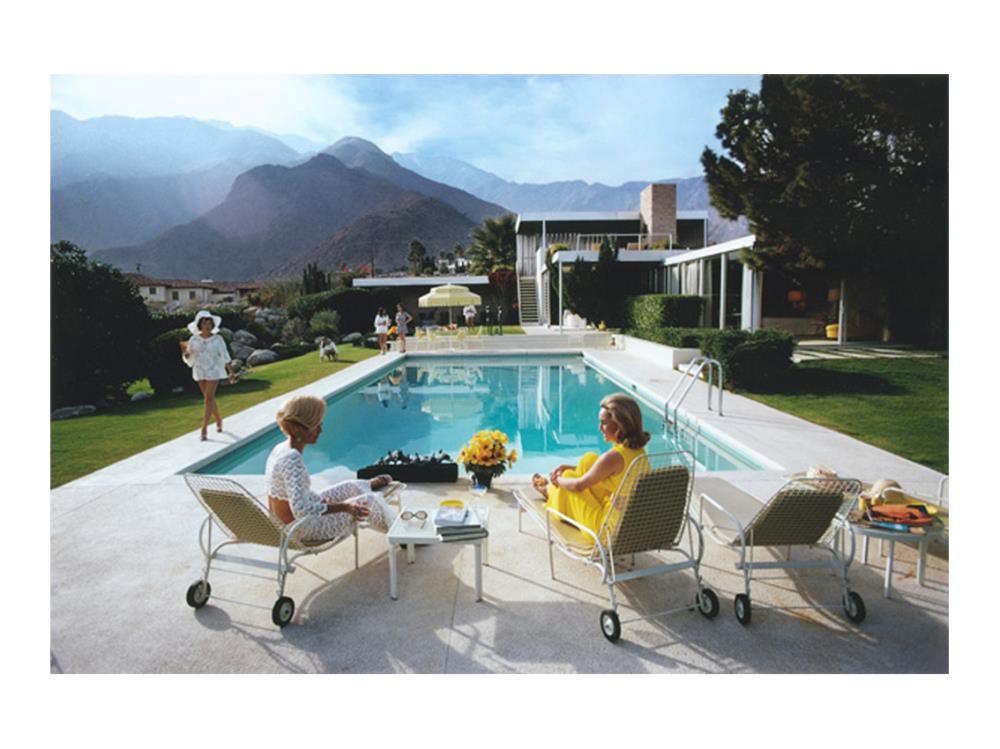 The dusty desert hills of Palm Spring's look almost other-worldly against the lush green, meticulously landscaped garden. Perfectly yellow sunflowers and a glassy turquoise pool take center stage, when more interestingly, the modern glass-and-stone house in the background was designed by famous architect Richard Neutra for Edgar J. Kaufmann.
The glamorous women you ask? Nelda Linsk, in yellow, owned the home when the photo was taken in 1970. Her friend, Helen Kaptur, lounging in the white lace co-ord, was married for many years to the mid-century architect Hugh Kaptur. The third women with fabulous legs? Actress, Lita Baron. Elite wives and socialites, quite a suitable subject for a photographer who made regular acquaintances with the likes of Grace Kelly, Marilyn Monroe and the Kennedy family.
Now widely recognised as the master of modern photography, Slim Aarons has gained new interest following the publication of his books, celebrating a career spanning over 6 decades. He is admired by many top fashion designers, including Tom Ford and Paul Smith for the unusual fact that he did not work with stylists or make-up artists but on the contrary, preferred that his subjects styled themselves. This gives pieces like 'Poolside Gossip' insight into the characters and their interests. Just look at those immaculate blow dries!
To share your ideas and find out more about this piece and other works by Slim Aarons at artrepublic Brighton, call us on 01273 724829 and speak to one of our personal art advisors.
'The Reclaimed Icons' by Sir Peter Blake
If glitter was ever to make an 'iconic' come back – it would be now.
Sir Peter Blake's vibrant set of glitz and glitter-filled prints are a sparkly celebration of historically iconic images – once seen in large volumes on a daily basis. Classic icons such as: travelling circus clown and a cat in a sash have been reworked and revitalised into striking works of art using vibrant inks and metallic glitters. With 5 nostalgic prints in the set, Sir Peter Blake has re-injected a burst of energy and life into these icons, winning over our 21st Century hearts.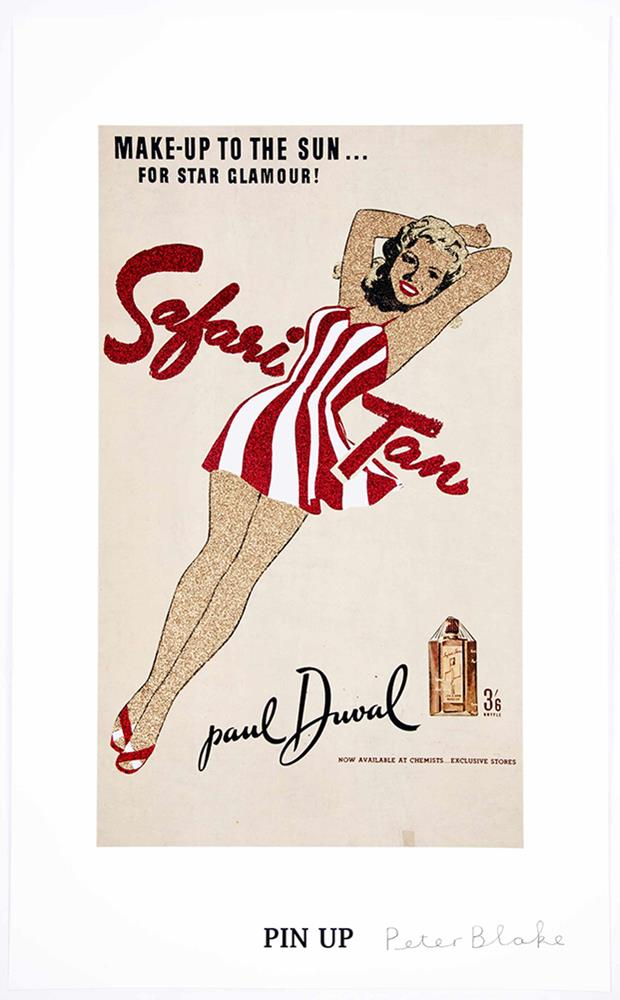 Knighted back in 2002 for his services to Art, the prolific painter, printmaker and collage artist has revealed that 'The Reclaimed Icons' may eventually be a set of 10 glittery prints. We are excited to see which icons he will choose to jazz up next.
Read more about Sir Peter Blake on our blog and discover more about these limited edition prints at artrepublic Brighton. Call us on +44 (0)1273 724829 and speak to one of our personal art advisors.
'Proteus' by Paul Huxley
Acclaimed British artist, Paul Huxley has created a limited edition of 50 'Proteus' silkscreen prints.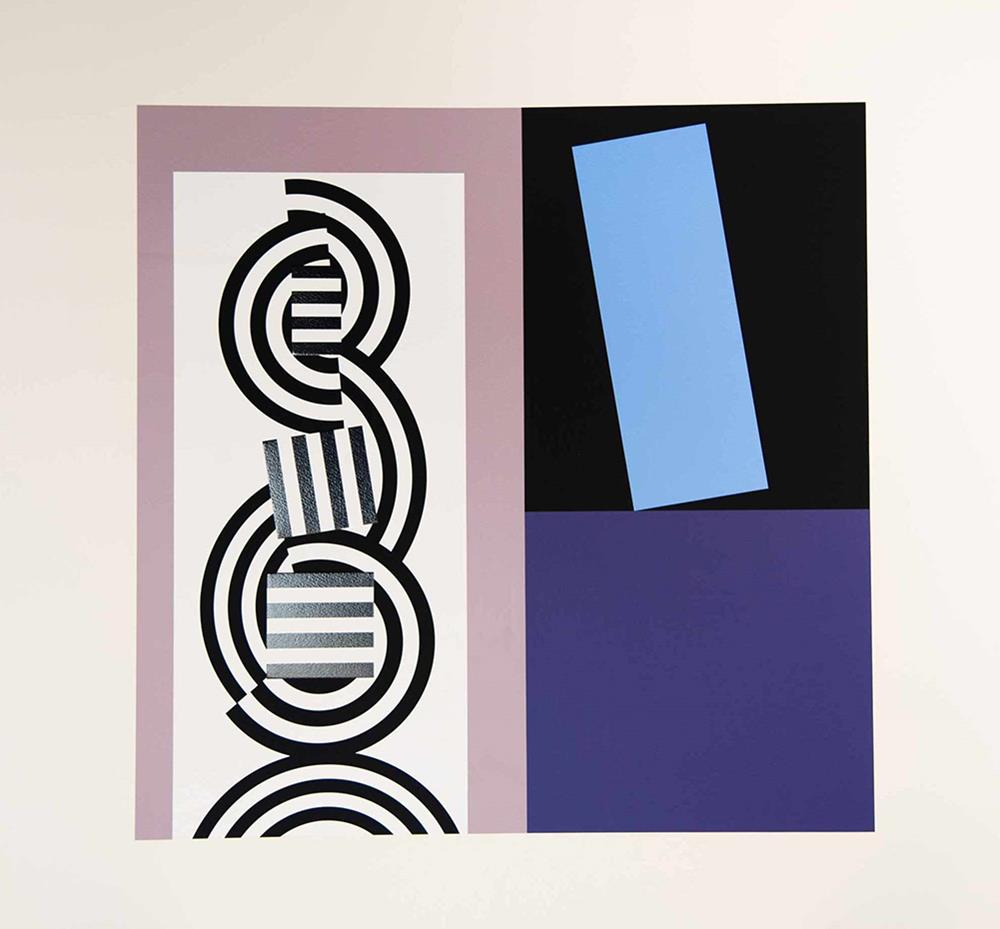 Best known for his experimental perspective with linear lines, distorted geometry and dynamic illusion, the Royal Academy of Art graduate was a key influencer in the development of the 1960s abstract painting movement.
Looking closely – panels of colour in dusky-pink, violet, and inky black create a soft palette, making this print complementary to any interior space. Huxley isn't one to shy away from optical illusion but manages to use it in a way that is intriguing and not overwhelming. Swirling monochrome semi-circles hypnotise us as the sky-blue block just adjacent, perfectly balances this intense, yet spacious abstract experience.
If you are interested in any of our staff recommendations, please call the gallery on +44 (0)1273 724829 for more information.
artrepublic is part of the history of Enter Gallery, find out more.