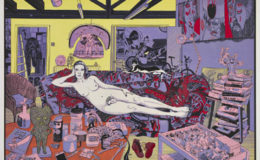 What happened when the cross-dressing British artist came to Brighton.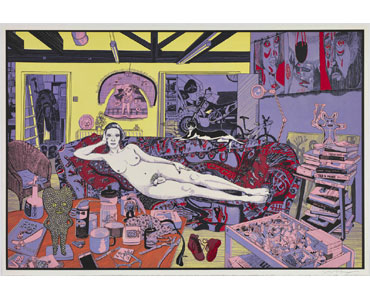 The past few years have seen so many major shifts in politics – whether social, cultural, gender-based or national – that (inevitably) you will have been forced to form some kind of opinion on a whole host of issues. The only way to avoid hot topics such as Brexit, President Trump, #metoo and the death of our oceans because of plastic waste, and remain calm amid the news-based storm, is to have a complete media blackout . Or become a reclusive hermit living in the wilderness somewhere. While the latter may sound appealing, it's not really a practical option for the vast majority of us. And so, instead, we have become part of an inadvertent game of 'Them & Us' which, as it happens, is the name of the talk that artist Grayson Perry is currently taking on tour around the UK.
The artrepublic team were lucky enough to get our hands on a few of the hottest tickets in town (Brighton was the first date to sell out on a line-up that included Birmingham, Manchester, Dublin and Edinburgh), and we piled in to Brighton Dome excited to see what gems the famously cross-dressing artist, who has hosted the Reith Lectures and all manner of TV shows, shorts and exhibitions, had to share with the crowd.
Despite knowing that Perry is no stranger to using his public platform to highlight social and cultural politics – whether through his talks, tapestries, prints, ceramics or his fashion choices – we weren't quite sure what to expect. Although we did anticipate a thought-provoking evening, that would likely be quite funny too.
Without giving the game away too much, we weren't disappointed… We can't say that Grayson himself felt the same way though. Throughout the course of the interactive evening, which challenged our ideas about taste, creativity and culture, and had all the laughter, catcalls and fabulous dresses we might have anticipated, the artist did claim to feel distinct disappointment in Brighton and its famously liberal locals on a number of occasions. We're still hoping that was simply for dramatic effect…?
Them & Us was much like the layers of Perry's artworks, which blend the opposing ideas of the rebel and the traditionalist, twisting and turning widely accepted viewpoints, ideas and values to make us look at things in a fresh light. If you're a fan of Perry's and have a chance to catch the tour at any of its next stops, we'd definitely recommend you check it out. You'll certainly come away with something to think about… and, if you're anything like us, with a smile on your face too.
artrepublic has a number of signed limited edition artworks by Grayson Perry. To find out more about any of these pieces, visit the gallery or call us on 01273 724829 to speak to one of our art advisors.
artrepublic is part of the history of Enter Gallery, find out more.